Winners of the cultural and creative industries hackathon HackCreative: An Industry Transformed announced.
On May1-3, the cultural and creative industries hackathon HackCreative took place online, bringing together more than 300 industry representatives and other stakeholders from 30 countries around the world. Participants developed a variety of projects that could potentially provide support to the industry during the COVID-19 crisis.
Creative and Cultural Industries hackathon is organized by the Northern Dimension Partnership on Culture (NDPC) and supported by the Latvian Ministry of Culture, cooperation with Latvian Centre for Contemporary Art, and Trans Europe Halles network.
NDPC focuses on improving operational conditions for cultural and creative industries, bridging the gap between various sources of funding, sectors of activity, and strengthening cooperation between project owners, business communities, the public sector, and international institutions throughout the Northern Dimension. Read more about us: www.ndpculture.org.
Hackathon HackCreative: An Industry Transformed is supported by Swedbank, Embassy of Sweden in Riga, Nordic Council of Ministers' Office in Latvia. Partners of the hackathon are FOLD, Loov Eesti, Latvian Literature, and Workstreams.ai.
During the hackathon, 26 ideas were developed, but the three most successful projects shared a cash prize fund of 10 000 euros provided by Swedbank. See more here.
The 2nd place and a cash prize of 3000 euros for further development of the idea were received by the team #visitmuseum, which offered online registration and ticketing tools for museums, libraries, and archives, based on the database www.kulturasdati.lv. More about the idea: ej.uz/visitmuseum
The team #visitmuseum
Team leader: Līga Lindenbauma
Team: Daina Auziņa, Lolita Tomsone, Ausma Šmite, Edvards Percevs
IT consultant: Anatolijs Ressins
Video: Kaspars Balamovskis
Response mentors: Ineta Zelča Sīmansone, Raivis Sīmansons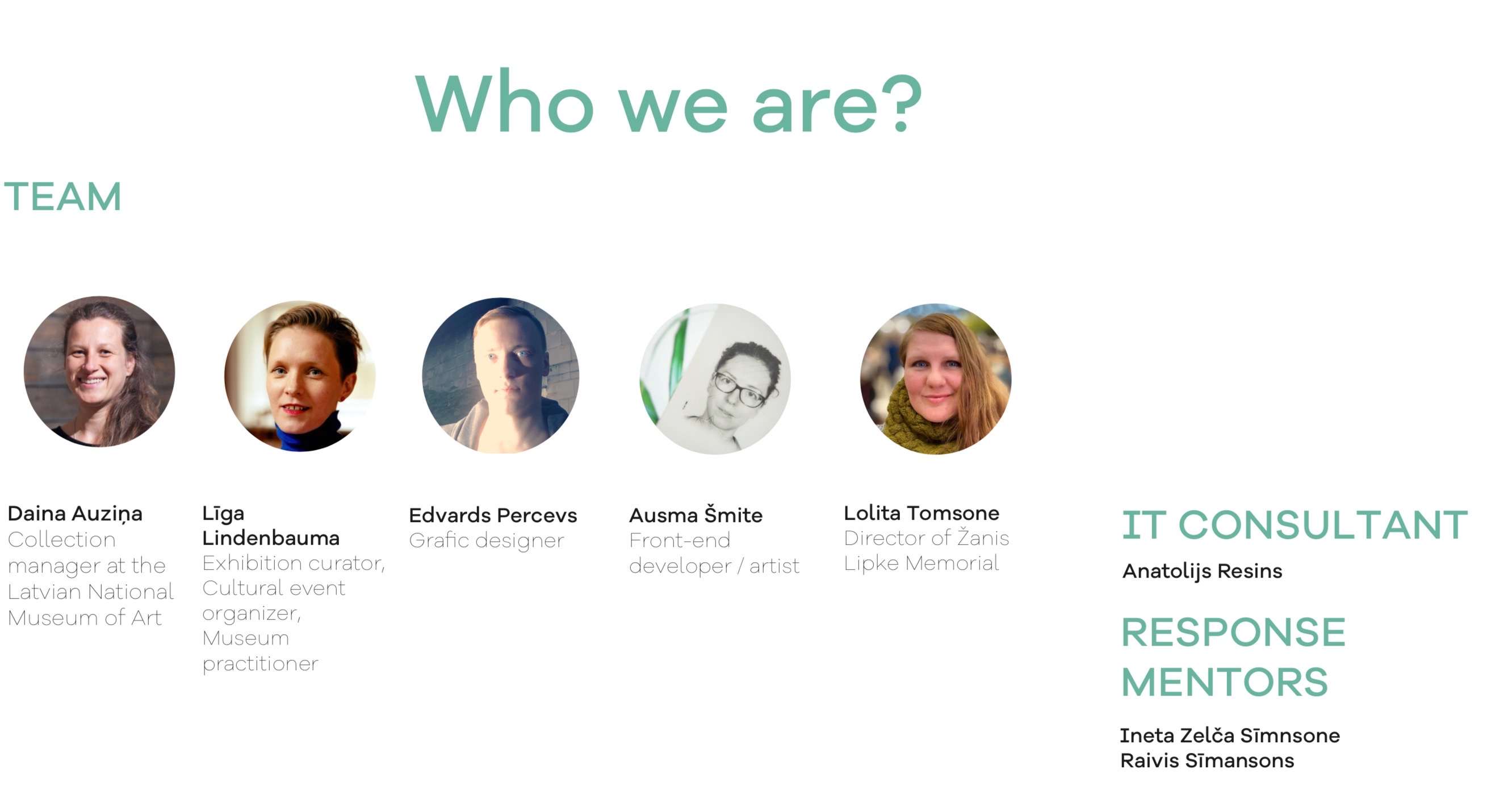 The problem that the team's idea is solving
Once the lockdown is lifted, cultural heritage institutions in Latvia (187 public museums, 18 archives, and 1538 libraries) will open to the public. Pre-registration of visitors is advised by the government but there is no visitor registration tool at hand. We offer an easy to use online booking system to solve this problem.
A one-liner for the solution
Online registration & ticketing tool for museums, libraries, and archives based on existing database kulturasdati.lv.
Did the team had something ready before the hackathon?
The team members worked on recommendations for the Sanitary Protocol project of the Ministry of Health and the Ministry of Culture which will be announced in due time and regulate the safety and sanitation rules in cultural heritage institutions. The recommendations were compiled and submitted by the Think Tank Creative Museum.
Besides, instead of developing individual registration systems, which is time consuming and expensive, we proposed to build on existing joint database for museums, libraries, and archives we use on a daily basis. Here we as heritage institution professionals submit all updated statistical information. It would be an ideal place for a registration tool as well.
What did the team built or achieved during the hackathon?
Because this tool would build on existing database, it would use data such as square meters of indoor and outdoor public spaces, parking lot availability etc., for a calculation of optimal visitor flow in each particular case. Institutions will be only advised by the system.
Every administrator of a cultural institution will be able to adjust the particular time slots for visits according to their insider's knowledge and react quickly to overcrowding.
Visitors will be able to choose one or few time slots, if needed, they will have a better choice when planning their visit.
The access to registration tool would be granted through the landing page of the Ministry of Culture and the individual websites of cultural heritage institutions thus building on existing well trusted sources.
Next steps / plans to go forward with the idea
Should the proposal be picked up by the administration who hosts the kulturasdati.lv database, the online registration tool for public cultural heritage institutions can be delivered within 2 weeks. A ticketing system and a mobile app version in 4 weeks.
The expected impact this solution will have on Culture and Creative Industries
This innovative and necessary online registration tool will strengthen the link between cultural and creative industries in Latvia through bringing them together by means of technology. A single and trusted access point to plan a safe visit to cultural heritage institutions after the lockdown would hugely benefit the government's efforts in regulating the situation.
Project presentation
Project video